Build a website and website traffic using Sitebuildit.
What is Rarer than Hen's Teeth on the Internet?
Answer: Traffic to a Small Business Website
This Learn Spanish Help site is built using Site Build It!
This software makes it easy for the novice to build a website, with no knowledge, then work on building web-traffic using their easy step-by-step guides.
As well as webhosting the key strength of Site Build It and the many products from Sitesell is in building traffic to a website.
Site Build It is designed not just to build a website but more importantly to build traffic to your website.
To paraphrase Dr Evoy, "What is rarer than hens' teeth?"
Answer:.... Traffic to a small business website!"
Books on How to Sell on the Web
There are several other e-books that Dr Evoy has written that are ENCYCLOPEDIAS for the web-TRAFFIC BUILDING novice, and for the person with a business on the web.
These are an incredibly easy read, in big font, with hundreds of graphics and links. They are jam packed with information on internet commerce.
There are several books, but the best to start with is
which you can download and be reading in minutes.
Download 'Make Your Site Sell' by clicking on the button. You can be downloading in seconds.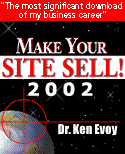 Just click on the link below to learn more:
How do you Judge Traffic to your Website?
The most effective way to get an indication of traffic to a website is the Alexa Toolbar.
This free downloadable tool sits on your Internet Explorer toolbar and shows the ranking of the site that you are visiting.
So if you are visiting Yahoo as I write this, it is number 1, MSN is number 2, Google is number 4 and so on. The lower your Alexa Rating, the more traffic you are getting.
An Alexa Rating under 200,000 shows the site is getting reasonable traffic.
Getting an Alexa Rating under 150,000 is not easy, but is a sign that you are getting quite strong traffic numbers. The lower your Alexa rating, the more traffic you are getting.
Whenever someone tells you how great their site is, you can quickly guage just how accurate their analysis is by visiting their site and checking their Alexa Ratings.
It is amazing how many people tell you how powerful their website is, and how much traffic it generates, but when you go to the Alexa rating it is in the millions (i.e. zilch traffic).
SBI is a great tool for traffic building.
We have downloaded and read lots on web-marketing, and we could add their sites, and take a slice of commission from each, but in reality, we have found the Sitesell crowd to be the best. Totally packed with information and facts.
I recommend that for those interested in gettting people to visit their website you should seriously look at Dr Evoy's products and click on any of the banner links on this page or


Click here for more information on Building your Website and Traffic to it!


Kind regards,
Kevin Crocombe
Learn Spanish Help
---
Learn Spanish Help. Copyright 2011.
Transcity Properties Ltd, 32 Alverton, Great Linford, Milton Keynes, MK14 5EF, Buckinghamshire, United Kingdom