8. By hard work!

This site has lots of info on all the above!

Let's look at the learning of words in Spanish made easy.

The Spanish expression for See you soon! is ¡Hasta la vista!....

This sounds a little like "I'll HASTEN TO VISIT YA" ... so, imagine saying exactly that:

"I'll see you soon! - I'll HASTEN TO VISIT YA."

... and add a picture!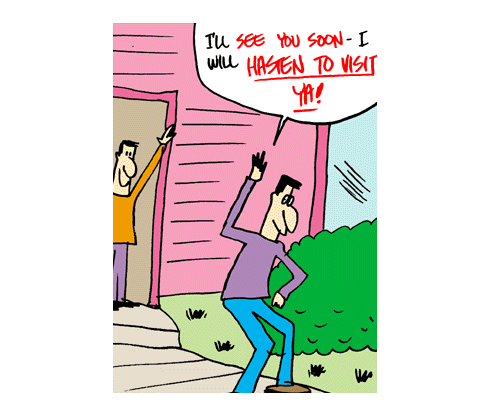 ---
Here are some more Spanish Greetings:
pleased to meet you! . . . ¡mucho gusto!

many thanks!, thank you very much!. . .¡muchas gracias!

good evening!, good night!. . .¡buenas noches!

good afternoon!. . .¡buenas tardes!

come in!. . .¡adelante!

OK!. . .¡vale!

how good! , great!. . .¡qué bien!

good luck!. . .¡suerte!, ¡buena suerte!


© exceltra
Spanish made easy
P.S. Note the up-side-down exclamation mark (¡) is always used in Spanish to show the beginning of an exclamation, with the normal exclamation mark (!) at the end.
---
Which of these Spanish words were easiest to remember?
The one with the cartoon picture or those without pictures?
Using Memory Techniques like those used in the picture, that is associating a word with a zany word association, can speed you vocab learning and recall to astonishing levels.
Some course just tell you a memory trigger for you to visualize, others go much further giving you pictures and animations for each, making them much more effective.
Find out more 'Spanish made easy' tricks by clicking on the link below.

Spanish made easy, the 200 Words a Day! way.
There is no more effective way of rapidly learning and remembering Spanish vocab.
We hope that you have enjoyed your 'Spanish made easy' lesson.
---
Copyright© 2011. All rights reserved. exceltra. Contact us at "Spanish Made Easy" info.
Learn Spanish Help - Spanish Made Easy.