Map of Andorra & Travel Tour Information for the Pyrenees
Why not learn Spanish in Andorra? But first check out the Map of Andorra to get the local lowdown!




This little country is almost lost in the midst of the wonderful Pyrenees Mountains. It's great for all round activities: there's skiing in the winter and hiking in the summer.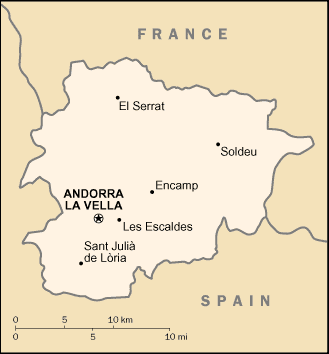 Location:
This little independent state lies in south western Europe, is tucked away between France and Spain in the midst of the beautiful Pyrenees Mountains.
Geographic Coordinates:
42 degrees 30' North, 1 degree 30' East
Road Map of Andorra:
The Pyrenees mountain range is fabulous. Less well known than the Alps, it is still unspoilt.
To make the most of your stay in this great outdoor space, you have to have a good map this amazing region.
The Michelin Map Number 526 (Midi Pyrenees, Toulouse, Carcassonne, Andora la Vella and Surrounding Area) by Michelin Travel Publications comes highly recommended. The scale of this map is 1:200,000.
All the maps in the Michelin series are excellent and invaluable for travelling in France or along its borders.
You can even click onto the link with Amazon here to buy your copy now!
Tour Andorra Information:
For more detailed maps and information on how to make the most of your trip to Andorra, the Rough Guide to The Pyrenees is an absolute must.
Including 40 maps, this guide book gives comprehensive information to suit all budgets on accommodation, the local watering holes, where to go and what to do anywhere in the Pyrenees Mountains.
So whether you're up to whitewater rafting or just planning a 'gentle' trek in these beautiful mountains, click on the Amazon link below to ensure you get the best travel information.
More information on Andorra
Index: Map of Andorra. Masses of Facts, Figures & Stats on Andorra.
---
More Maps of Spanish Speaking Countries
Map of Andorra
|
Map of Argentina
|
Map of Belize
|
Map of Bolivia
|
Map of Chile
|
Map of Colombia
|
Map of Costa Rica
|
Map of Cuba
|
Map of Dominican Republic
|
Map of Ecuador
|
Map of El Salvador
|
Map of Gibraltar
|
Map of Guatemala
|
Map of Honduras
|
Map of Mexico
|
Map of Nicaragua
|
Map of Panama
|
Map of Paraguay
|
Map of Peru
|
Map of Puerto Rico
|
Map of Spain
|
Map of Uruguay
|
Map of Venezuela
---
Map of Andorra from Cia World Factbook.
Learn Spanish Help, 2011.