Map of El Salvador, Central America, for travel and tour
Just cast your eyes over the map of El Salvador...
With its western border lapped by the north Pacific Ocean, and a score of active volcanoes to climb, El Salvador offers both relaxation and excitement to the visitor.
Use the map and information below to help you decide whether El Salvador appeals to you as a potential destination for learning Spanish.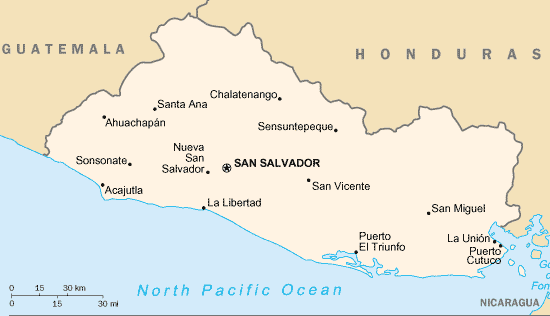 Location:
Middle America, bordering the North Pacific Ocean, between Guatemala and Honduras.
Geographic Coordinates:
13 minutes 50' North, 88 minutes 55' West
Travel and Tour Map of El Salvador:
Whenever you go somewhere new, the only way to ensure you visit all the best places is by getting a good map. Here are a couple to chose from...
The El Salvador Map from International Travel Maps is written in English, French, German and Spanish, so scores well on the international accessibility front.
The main map of El Salvador is shown on a scale of 1:375,000. It also has a smaller, more detailed inset map of the country's capital, San Salvador.
The map gives great detail: it shows the entire road network from major highways to the minor roads and from swamps to active volcanoes and fabulous reefs.
Don't miss out on your copy! Order now from Amazon via our link below.

ITMB's El Salvador Map is another tour map. Its scale is 1:250,000 and it gives even better differentiation between quality of roads, from major routes to basic tracks.
It also gives all shapes and sizes of settlements, from cities to hamlets. The national parks, sites of interest, and archaeological ruin are all included.
This map of El Salvador also has an inset map of San Salvador which indicates places to visit, hotels, embassies and transport centres.
Get yours here and now by clicking on the Amazon link below.



More information on El Salvador
Index: Map of El Salvador. Masses of Facts and Figures on El Salvador.

---
Map of El Salvador from Cia World Factbook.
Learn Spanish Help. Copyright 2011.
---
More Maps of Spanish Speaking Countries
Map of Andorra | Map of Argentina | Map of Belize | Map of Bolivia | Map of Chile | Map of Colombia | Map of Costa Rica | Map of Cuba | Map of Dominican Republic | Map of Ecuador | Map of El Salvador | Map of Gibraltar | Map of Guatemala | Map of Honduras | Map of Mexico | Map of Nicaragua | Map of Panama | Map of Paraguay | Map of Peru | Map of Puerto Rico | Map of Spain | Map of Uruguay | Map of Venezuela