Map of Belize Central America & Travel Information
Before setting off for the swamps, mountains and Mayan history, use our map of Belize to point you in the right direction!
This country has a fabulously rich history to explore as well as the varied landscape of the costal plains and forests.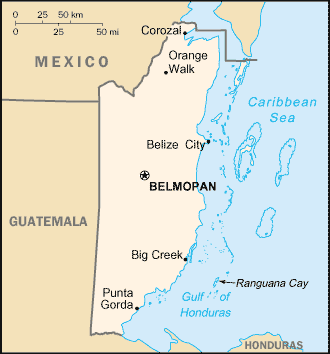 Location:
Belize is right in the middle of Central America between Guatemala and Mexico. It borders the Caribbean Sea.
Geographic Coordinates:
17 degrees 15' North, 88 degrees 45' West
Road & Travel Maps of Belize:
The best way to see the country is to hire a car and get out and about!
Of course, you don't want to miss the best spots or get lost, so here are some recommended maps to make it easy...
Insight Flexi Maps: Belize, produced by Apa Publications is very helpful. It gives the top ten sights and includes travel information, comprehensive route & city maps and is laminated for durability.
All this on a scale of 1:225,000.
Click below to buy yours now from Amazon!
If you'd rather something else,there is always Jack Joyce's Belize Map, published by ITMB Publishing.
With a scale of 1:350,000, this map of the country also shows portions of Mexico and Guatemala.
It is road map brimming with information on everything from Belize's topography to sites of interest, resort accommodation information, national parks,coral reefs and airports.
Click on the Amazon link below to make sure you don't go without your copy!
More information on Belize
Index: Map of Belize. Masses of Facts and Figures on Belize.

---
Map of Belize from Cia World Factbook.
Learn Spanish Help. Copyright 2004-2011
---
More Maps of Spanish Speaking Countries
Map of Andorra | Map of Argentina | Map of Belize | Map of Bolivia | Map of Chile | Map of Colombia | Map of Costa Rica | Map of Cuba | Map of Dominican Republic | Map of Ecuador | Map of El Salvador | Map of Gibraltar | Map of Guatemala | Map of Honduras | Map of Mexico | Map of Nicaragua | Map of Panama | Map of Paraguay | Map of Peru | Map of Puerto Rico | Map of Spain | Map of Uruguay | Map of Venezuela