Map of Honduras, Central America
Ever thought of learning Spanish in Honduras?
Why not let your eyes wander over our map of Honduras, while your imagination takes you on a whirlwind tour of this fabulous and historic Central American country.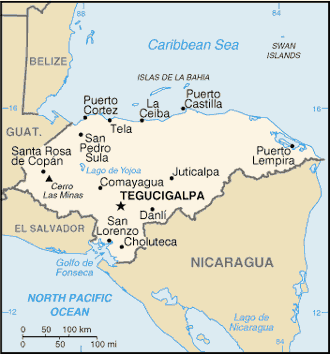 Location:
This mostly mountainous country in Central America, lies with coastlines on both the Caribbean Sea and the North Pacific Ocean's Gulf of Fonseca. Its land boundaries are shared with Guatemala, Nicaragua and El Salvador.
Geographic Coordinates:
15 degrees 00' North, 86 degrees 30' West
Road & Travel Map of Honduras:
Of course, you don't want to get lost while you're in Honduras! You'll be needing a good map, then.
Better get ITMB Publishing's Honduras Map, written in English, Spanish and German, then!
This is a pretty comprehensive and detailed road and physical map of the country. It also has a detailed inset map of the capital city of Tegucigalpa.
Everything you could possibly want to see or contemplate doing is covered. Luckily they've got a handy index of place names, too.
All this to a scale of 1:750,000.
Don't leave without your copy from Amazon. Just click the icon below and Bob's your uncle!
Travel Guide to Honduras
Moon Handbooks Honduras will give more detailed local maps and a good insight into opening hours, what to do and where to go while you're in Honduras.
Just click below to order yours now, straight from Amazon!
More information on Honduras
Index: Map of Honduras. Masses of Facts and Figures on Honduras.

---
Map of Honduras from Cia World Factbook.
Learn Spanish Help. Copyright 2011.
---
More Maps of Spanish Speaking Countries
Map of Andorra | Map of Argentina | Map of Belize | Map of Bolivia | Map of Chile | Map of Colombia | Map of Costa Rica | Map of Cuba | Map of Dominican Republic | Map of Ecuador | Map of El Salvador | Map of Gibraltar | Map of Guatemala | Map of Honduras | Map of Mexico | Map of Nicaragua | Map of Panama | Map of Paraguay | Map of Peru | Map of Puerto Rico | Map of Spain | Map of Uruguay | Map of Venezuela