Travel & Information Map of Nicaragua Central America
Have you considered learning Spanish in Central America? Let our map of Nicaragua persuade you!
With fertile soils and a tropical climate, not to mention the Caribbean and Pacific coastlines, there's plenty to head for!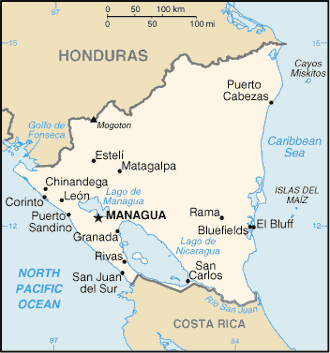 Location:
Middle America, bordering both the Caribbean Sea and the North Pacific Ocean, between Costa Rica and Honduras
Geographic Coordinates:
13 degrees 00' North, 85 degrees 00' West
Map of Nicaragua:
If you're planning (as you really ought) to see the country in between your Spanish lessons, you really need a map to keep you on track.
The best map we've come across in our extensive research is the Nicaragua Map published by ITMB Publishing Ltd.
Order your copy from Amazon by clicking on the icon below.
Travel Guide to Nicaragua
For more detailed maps and bags of information on local places, what to do and see while you're there, the Footprint Nicaragua Handbook by Richard Leonardi comes highly recommended.
It really gets down to the nitty gritty and tells you the unmissable spots as well as those which you really don't want to touch with a bargepole.
This guidebook is an absolute must-have for anyone considering travelling to this amazingly complex country.
Don't say we didn't warn you! Get it now through our Amazon link.
More information on Nicaragua
Index: Map of Nicaragua. Masses of Facts and Figures on Nicaragua.

---
Map of Nicaragua from Cia World Factbook.
Learn Spanish Help. Copyright 2011.
---
More Maps of Spanish Speaking Countries
Map of Andorra | Map of Argentina | Map of Belize | Map of Bolivia | Map of Chile | Map of Colombia | Map of Costa Rica | Map of Cuba | Map of Dominican Republic | Map of Ecuador | Map of El Salvador | Map of Gibraltar | Map of Guatemala | Map of Honduras | Map of Mexico | Map of Nicaragua | Map of Panama | Map of Paraguay | Map of Peru | Map of Puerto Rico | Map of Spain | Map of Uruguay | Map of Venezuela