Map of Ecuador South America for your tour
Will the map of Ecuador tempt you to hop on a plane and go over there to learn Spanish?




Maybe the other maps and information will persuade you to give this little country a stop on a wider tour...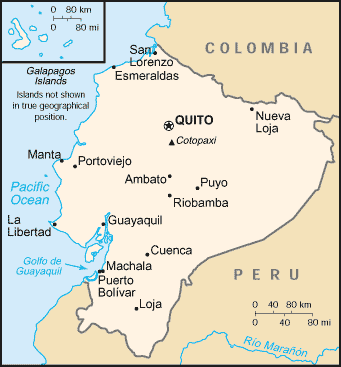 Location:
Straddling the equator, Ecuador located in Western South America. It is bordered by Colombia to the north, Peru to the south and east, while the Pacific Ocean buffets its west coast.
Geographic Coordinates:
2 degrees 00' South, 77 degrees 30' West
Map of Quito, the Capital of Ecuador:
Getting lost in any foreign country is daunting. Try to avoid it by getting your hands on International Travel Maps' Quito, Ecuador Map.
This detailed street map of the Quito is quite invaluable. Anything you could possibly want in the capital is marked and place names are indexed for ease of use.
The scale is 1:12,500 and it includes a regional map.
Don't go without it. Click below before you forget to order it from Amazon!
Road and Physical Map of Ecuador:
Well, there's a great selection of maps of Ecuador. Depending on where you're planning to travel, you might want to get one which combines two countries, such as the Nelles Peru & Ecuador Travel Map.
This covers the physical and basic road network for both Ecuador and neighbouring Peru. With text in English, German, French and Spanish, it is internationally popular. The scale is 1:2,500,000.
Click below to order now from Amazon.
If you're planning on driving around or hiking, the Ecuador Map from International Travel Maps is probably a better bet.
This road and travel map of Ecuador differentiates between the quality of roads, from major to minor mudtracks. Packed with the natural features which you can't afford to miss, from canals to rapids, glaciers to swamps, and active volcanoes, this map of Ecuador will really make sure you know where to go!
There are also inset maps of Quito and Guayaquil. The scale of the main map is 1:700,000.
Get yours now: click below!
International Travel Maps have also produced the English/Spanish Ecuador Map with a scale of 1:1,000,000. This map has three additional inset maps: Quito (scale 1:16,500); greater Quito; and Guayaquil (scale 1:250,000).
Everything you could dream of is down on this map! The great detail means that the smallest hamlets are named, as well as tracks and trails and main roads!
Want to know the nearest active volcano or airport? It's all here!
Click on the Amazon icon below to get your Ecuador Map now!
More information on Ecuador
Index: Map of Ecuador. Masses of Facts and Figures on Ecuador.

---
Map of Ecuador from Cia World Factbook.
Learn Spanish Help 2004-2011.
---
More Maps of Spanish Speaking Countries
Map of Andorra | Map of Argentina | Map of Belize | Map of Bolivia | Map of Chile | Map of Colombia | Map of Costa Rica | Map of Cuba | Map of Dominican Republic | Map of Ecuador | Map of El Salvador | Map of Gibraltar | Map of Guatemala | Map of Honduras | Map of Mexico | Map of Nicaragua | Map of Panama | Map of Paraguay | Map of Peru | Map of Puerto Rico | Map of Spain | Map of Uruguay | Map of Venezuela