Map of Dominican Republic Carribean for travel
Wow! A map of Dominican Republic! Did you know it was a great place to learn Spanish as well as get a tan?
Check out travel and tour maps below to see whether this is the tropical paradise for you!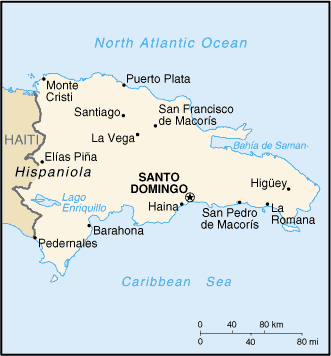 Location:
Paradise, in the form of the Dominican Republic, can be found on the eastern two-thirds of the Caribbean island of Hispaniola! The country shares the island with French-speaking Haiti. The northernmost shores are lapped by the North Atlantic Ocean.
Geographic Coordinates:
19 minutes 00' North, 70 minutes 40' West
Dominican Republic Map for Travel & Tours:
A good map is a must-have to make the most of your stay. The user-friendly Dominican Republic Map comes ready laminated and includes a variety of local insert maps.
With a scale of 1:600,000, this physical and road map of Dominican Republic has an extensive index. Useful locations are labelled, from beaches banks, and museums to marine parks.
There is a six-language introduction and precipitation and temperature charts to help you get a feel for the country before you go.
Order now by clicking the link with Amazon below.
With text in English, German and French, Nelles' Dominican Republic/Haiti Travel Map with City Maps is very popular.
It is an up-to-date, very detailed relief map of Dominican Republic and neighbouring Haiti, with all the main highways and distances marked on.
It also provides plenty of tourist information and shows the best natural and man-made features to visit. Insets maps of the main places to visit also feature. All this on a scale of 1:600,000.
Get yours now by clicking on this icon...
The final map we are going to suggest is the Dominican Republic Map published by International Travel Maps. This one has a scale of 1:500,000.
This physical and road map gives details of trails for hikers, sites of interest (including the location of shipwrecks!), hotels, airports and nature reserves.
Click to link up to Amazon, where they're just waiting to take your order!
More information on Dominican Republic
Index: Map of Dominican Republic. Masses of Facts and Figures on Dominican Republic.

---
Map of the Dominican Republic from Cia World Factbook.
Learn Spanish Help. Copyright 2011.
---
More Maps of Spanish Speaking Countries
Map of Andorra | Map of Argentina | Map of Belize | Map of Bolivia | Map of Chile | Map of Colombia | Map of Costa Rica | Map of Cuba | Map of Dominican Republic | Map of Ecuador | Map of El Salvador | Map of Gibraltar | Map of Guatemala | Map of Honduras | Map of Mexico | Map of Nicaragua | Map of Panama | Map of Paraguay | Map of Peru | Map of Puerto Rico | Map of Spain | Map of Uruguay | Map of Venezuela