Travel Map of Argentina, South America
Argentina, homeland of Eva Peron. Use our map of Argentina before you up sticks to go and learn Spanish there.
Well, you wouldn't want to miss out on the best things to see and do in this, the second largest country on the South American continent!
What with the Andes running down the west, glacier fields and the Welsh-speaking enclave of Patagonia, vineyards and grasslands, this is a country full of potential to any tourist.


Argentine Map (which you can use...)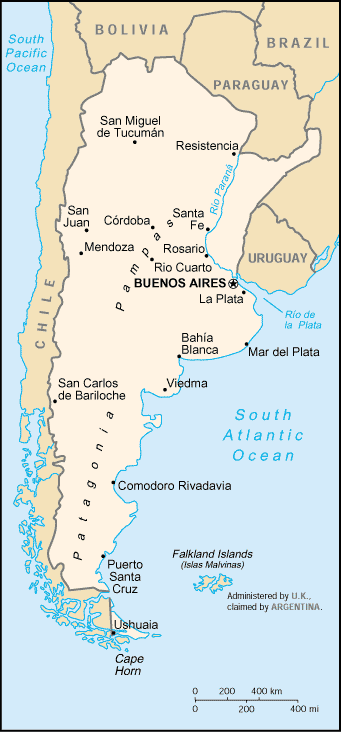 Map of the country of Argentina, South America

You can use this map by right-clicking on it with your mouse, and then clicking on 'Save picture as...'
The country is long and narrow, wider in the north and narrowing to the south of the country, in the Patagonia.
The capital, Buenos Aires, is in the north-east, on the banks of the River Plate - the Rio de la Plata (River of Silver).
Depicted on on the map are the other main cities of San Miguel de Tucuman, San Juan, Cordoba, Bahia Blanca, Viedma, Rosario, Resistencia and San Carlos de Bariloche.
Tour Map of Buenos Aires, Argentina
Checking out the sights of Buenos Aires the bustling capital of Argentina you may need a decent map of the city. Don't get lost!
The Lonely Planet series are an excellent series of maps designed for the traveller.
Road, Physical & Travel Map of Argentina
Check out the Argentina and Chile Map (Independent Travel Map) from Collins Publishers. If you are driving through and staying a while you will need a detailed map such as these.
These maps feature Argentina and Chile, the southern countries of the South American continent.
The major tourist attractions and sights are featured, as are all the major road networks. Hillshading and attractive layer colouring make the geographical and topographical features stand out.
Scale of the maps are 1:5 000 000; 1 cm to 50 km; 1 inch to 79 miles.
You can find out all about it here and can even buy it by clicking on the link to Amazon here:


Geographical & Physical Argentina Map
The Collins Argentina and Chile Map (Independent Travel Map) described and linked above is a detailed geographical and physical map of both countries.
More information on Argentina
Index: Map of Argentina. Masses of Facts and Figures on Argentina.

---
Map of Argentina from Cia World Factbook.
Learn Spanish Help. 2011.
---
More Maps of Spanish Speaking Countries
Map of Andorra | Map of Argentina | Map of Belize | Map of Bolivia | Map of Chile | Map of Colombia | Map of Costa Rica | Map of Cuba | Map of Dominican Republic | Map of Ecuador | Map of El Salvador | Map of Gibraltar | Map of Guatemala | Map of Honduras | Map of Mexico | Map of Nicaragua | Map of Panama | Map of Paraguay | Map of Peru | Map of Puerto Rico | Map of Spain | Map of Uruguay | Map of Venezuela