Map of Spain Europe for your Tour Information
Wanting to learn Spanish? Sneak a peek at our map of Spain and information below and see if the land it all began in takes your fancy!




With the lush green Pyrenees Mountains and Picos de Europa in the north, the often arid central plain and the hot south, this varied country offers something for everyone.
Eating out is cheap (as is drinking), so book your ticket now! ... But not before checking out the rest of this website, of course!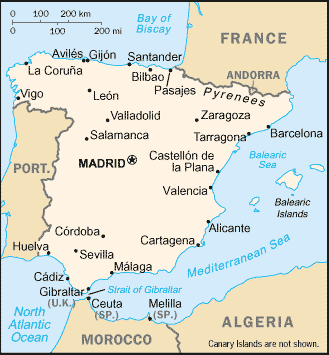 Location:
Spain occupies most of the Iberian Peninsula in south west Europe and is almost completely surrounded by sea! What a marvellous place!
To the north and northwest lie the Bay of Biscay and North Atlantic Ocean, to the east and south laps the beautiful Mediterranean Sea.
In the northeast, Spain meets France and Andorra in the midst of the Pyrenees Mountains. To the west, its land borders almost enclose Portugal.
Geographic Coordinates:
40 degrees 00' North, 4 degrees 00' West
Map of Madrid, Capital of Spain:
Ay, Madrid! The bustling capital of Espana! Lots of people, lots of culture. Don't miss it!
And before you go, make sure you've got your comprehensive map of the city: Streetwise Madrid from Streetwise Maps.
Get yours now by clicking onto our Amazon link now...
Map of Barcelona, Capital of Catalonia:
If you're planning to step away from Castilian Spanish, why not head to Barcelona, home of las Ramblas and such creative genius as Gaudi and Dali.
It's a busy city and you won't want to get lost. Better invest in a street map such as Streetwise Barcelona by Streetwise Maps.
Link into Amazon right now to order your copy by clicking on the icon below.
Road Travel Map of Spain:
Cities are all very nice for a short time, but there is so much to see in Spain, that you really need to get out there to see the non-cosmopolitan side of the country.
It is possible to get the whole of Spain - and Portugal - squashed into a single map. Currently easily available are the Michelin Spain & Portugal Map No. 990, 23e by Michelin Travel Publications by clicking below...
... or National Geographic's Spain & Portugal Map: 32 1/2 X 21 3/4, which can be ordered by clicking on the Amazon link below.
Spain covers such a large area, that if you are considering leaving the beaten track, you'll be best off with a more specific map of the particular Spanish region you are interested in.
The Michelin series also include regional maps, one of which is the Michelin Spain Southern Map No. 446.
With a multilingual key and a scale of 1:400,000 (in English, French, Portugese and Spanish), this annually updated road map of Spain's hot south covers the main and secondary road networks across the region.
If you're planning on heading out to Andalusia, get this map from Amazon by clicking on the icon below.
More information on Spain
Index: Map of Spain. Masses of Facts and Figures on Spain.

---
Map of Spain from Cia World Factbook.
Learn Spanish Help 2004-2011.
---
More Maps of Spanish Speaking Countries
Map of Andorra | Map of Argentina | Map of Belize | Map of Bolivia | Map of Chile | Map of Colombia | Map of Costa Rica | Map of Cuba | Map of Dominican Republic | Map of Ecuador | Map of El Salvador | Map of Gibraltar | Map of Guatemala | Map of Honduras | Map of Mexico | Map of Nicaragua | Map of Panama | Map of Paraguay | Map of Peru | Map of Puerto Rico | Map of Spain | Map of Uruguay | Map of Venezuela