Tour Map of Paraguay South America
Fabulous flora and fauna in subtropical forests and savannahs... see for yourself on our map of Paraguay just why you should learn Spanish here!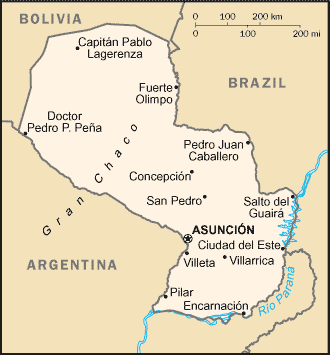 Location of Paraguay:
This landlocked country is bang-slap in the middle of South America.
It is surrounded by Brazil to the east, Argentina to the south and west, and Bolivia to the north and west.
Geographic Coordinates:
23 degrees 00' South, 58 degrees 00' West
Travel Road Map of Paraguay:
Take our advice: to get the most from your stay in Paraguay, you'll need a good map.
Popular amongst international travellers for their multilingual maps, Nelles deliver with their dual country Bolivia/Paraguay Travel Map.
Click below to get yours!
If your travels take you to countries other than Bolivia, then you may find Zagier & Urruty Publications' Argentina/Chile/Uruguay/Paraguay Map more useful to make sure you keep your bearings.
If this is the map for your tour of Paraguay and beyond, click here to order your copy from Amazon.
And finally, if you were thinking of dabbling with a little Portuguese and taking in neighbouring Brazil during your visit, you ought to invest in the Brazil Map: Bolivia, Paraguay, Uruguay from the American Map Corporation.
Don't miss out! Order your map from Amazon via our link below!
More information on Paraguay
Index: Map of Paraguay. Masses of Facts and Figures on Paraguay.

---
Map of Paraguay from Cia World Factbook.
Learn Spanish Help. Copyright 2011.
---
More Maps of Spanish Speaking Countries
Map of Andorra | Map of Argentina | Map of Belize | Map of Bolivia | Map of Chile | Map of Colombia | Map of Costa Rica | Map of Cuba | Map of Dominican Republic | Map of Ecuador | Map of El Salvador | Map of Gibraltar | Map of Guatemala | Map of Honduras | Map of Mexico | Map of Nicaragua | Map of Panama | Map of Paraguay | Map of Peru | Map of Puerto Rico | Map of Spain | Map of Uruguay | Map of Venezuela