Map of Bolivia South America for Tour Information
Beautiful Bolivia! Just use the map of Bolivia below and read on to learn more about the Andes' answer to Tibet!
From the Andes to the Amazon, rainforest jungles to grassland savannahs, this is an all-encompassing world for the avid explorer!
There can be no more exciting place on earth to immerse yourself in Spanish whilst seeing the most amazing natural sights!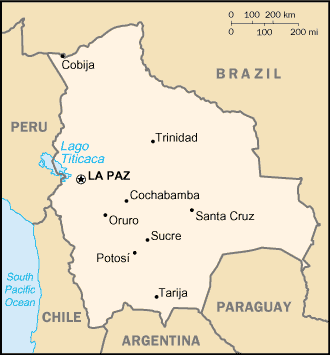 Location:
Bolivia is in central South America, southwest of Brazil.
Geographic coordinates of Bolivia:
17 degrees 00' South, 65 degrees 00' West
Road, Physical & Travel Maps of Bolivia:
Bolivia is a South American country of amazing variety. It has a wealth of natural features, from glaciers to hotsprings and salt pans to swamps. A good map is an absolute must to get the most out of your tour of Bolivia.
The Bolivia Travel Map, from ITMB Publishing, is one such map. Not simply a road map of Bolivia, it indicates the sites of archaeological and natural interest, national parks and nature trails, the entire road and rail networks and all the Bolivian airports.
The map also includes a handy inset map of the Bolivia's capital, La Paz, and an index of major place names. The scale is 1:2,000,000.
You can click on the Amazon link below to make sure you don't go to Bolivia without this invaluable source of information!
Another very useful map (especially if you're thinking of heading out to Paraguay, too) is Nelles Bolivia/Paraguay Travel Map.
This up-to-date, detailed, highly readable relief map shows the major roads and provides tourist information for both Bolivia and Paraguay. It indicates sites of natural and archaeological interest, national parks, airports and railways.
The best part is that it also includes special maps of Cusco/Machu Picchu, Iguacu and the city maps for Asuncion, Cusco, La Paz, Potosi and Santa Cruz de la Sierra.
The scale of this map is 1:2,500,000.
Order now from Amazon by clicking the button below.
Another map for the traveller who's heading for several countries comes from Collins publishers in the guise of the Peru, Bolivia & Ecuador Map.
Forming part of their Independent Travel Series, this detailed physical map shows the main transportation links and tourist features of the Bolivia, Ecuador and Peru.
It covers an area from the Pacific coast in the west to the Andes and the Brazilian border in the east and to Chile and Argentina in the south.
Also included are maps of their capital cities: La Paz, Lima and Quito, a table of distances, a full index of place names and a map showing the transport links.
Click below to buy this map from Amazon now.
Travel Information on Bolivia:
When you're travelling as far afield as Bolivia, you want to make sure you don't miss out on the best spots just because of siestas and unusual opening times.
This is where the Footprint Bolivia Handbook comes into its own. Packed with historical and cultural information and ideas on action-packed outdoor adventure activities, this guide also lists accommodation for all budgets and has plenty of handy maps.
A click of the button below will get you your copy from Amazon!
More information on Bolivia
Index: Map of Bolivia. Masses of Facts and Figures on Bolivia.

---
Map of Bolivia from Cia World Factbook.
Learn Spanish Help. Copyright 2011.
---
More Maps of Spanish Speaking Countries
Map of Andorra | Map of Argentina | Map of Belize | Map of Bolivia | Map of Chile | Map of Colombia | Map of Costa Rica | Map of Cuba | Map of Dominican Republic | Map of Ecuador | Map of El Salvador | Map of Gibraltar | Map of Guatemala | Map of Honduras | Map of Mexico | Map of Nicaragua | Map of Panama | Map of Paraguay | Map of Peru | Map of Puerto Rico | Map of Spain | Map of Uruguay | Map of Venezuela