Map of Colombia South America for travel information
Thinking of travelling to South America? Look no further than this map of Colombia... Can you think of a more exciting location to learn Spanish?
It is a land of passion and beauty, boasting the most northern point of the South American continent. The locals are very hospitable. (Something to do with the drugs, maybe?)
If you think this could be the place for you, check out the useful map of Colombia below.
With a bloody history, you need to make sure you're fully prepared. Don't leave home without the essential maps and guides you can obtain below.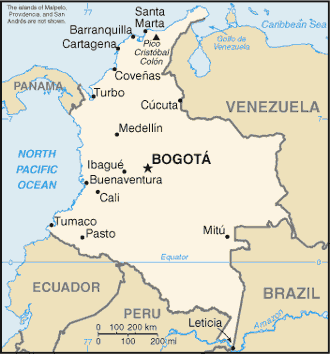 Location:
As you can see from the map of Colombia above, the country is right in the north west corner of South America and boasts two seas.
On its northern shores lies the Caribbean Sea, and it shares borders with Panama and Venezuela.
Its west coast is on the North Pacific Ocean, bordered by Panama to the north and Ecuador to the south.
Geographic Coordinates:
4 degrees 00' North, 72 degrees 00' West
City Tour Map of Santa Fe de Bogota:
The chances are, your tour of Colombia will start in the capital city of Bogota (its name was shortened after independence).
This really is a place you need to be able to find your way around, so a good map is absolutely essential.
Click on the link below to get your copy of the Santa Fe de Bogota map published by Treaty Oak.
Road & Travel Map of Colombia:
To make the most of the rest of the country, it is really worth while investing in a copy of the Nelles Colombia & Ecuador Travel Map with Galapagos Islands.
This is a highly readable, detailed relief map which has all the major roads and distances clearly marked. It has a scale of 1:2,500,000.
Click on the icon below to get your copy straight from Amazon!
Guide, Information & Maps of Colombia:
Colombia can be quite a dangerous destination if you are not prepared. It is as well to read up on the country before you set off.
The Footprint Colombia Handbook: The Travel Guide is another essential. Its author, Peter Pollard has worked in South and Central America for 12 years and travelled extensively through Colombia.
This handbook is full of up-to-date, in depth travel information. It gives a fascinating insight into the history and culture and customs of every locality.
To ensure that you get the best from your tour of Colombia, click on the Amazon link below to get your Footprint Handbook now!
Another great and comprehensive guide, including plenty of detailed maps of Colombia is the Lonely Planet guide to Colombia. Now in its third edition, this guidebook is better than ever.
Packed with information on the culture and history, it tackles the issues of personal safety head on.
It also includes information on eateries and accommodation for all budgets, as well as dedicating a whole section to the Spanish language. Not forgetting its excellent information on treks and national parks.
Make sure you don't leave home without it! Click below to buy now.
More information on Colombia
Index: Map of Colombia. Masses of Facts and Figures on Colombia.

---
Map of Colombia from Cia World Factbook.
Learn Spanish Help. Copyright 2011.
---
More Maps of Spanish Speaking Countries
Map of Andorra | Map of Argentina | Map of Belize | Map of Bolivia | Map of Chile | Map of Colombia | Map of Costa Rica | Map of Cuba | Map of Dominican Republic | Map of Ecuador | Map of El Salvador | Map of Gibraltar | Map of Guatemala | Map of Honduras | Map of Mexico | Map of Nicaragua | Map of Panama | Map of Paraguay | Map of Peru | Map of Puerto Rico | Map of Spain | Map of Uruguay | Map of Venezuela