Map of Mexico Central America for your Travel Information
Ever more popular as a tourist destination, our map of Mexico will help you decide where you would rather learn Spanish!
Steeped in Aztec and Mayan history, Mexico mixes tradition with modern life. From desert in the north to lush, well-watered lands elsewhere, and with the ever-present Sierra Madre mountain range, there's plenty to keep you busy!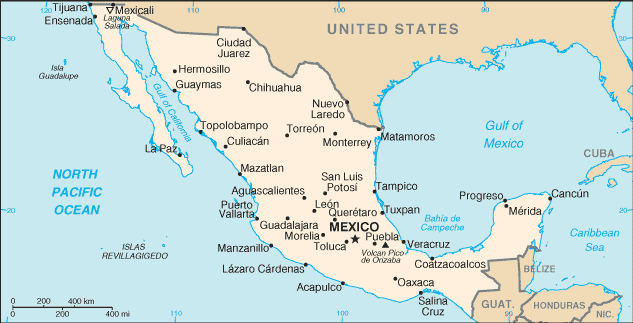 Location:
Covering over half of Central America, Mexico shares its land borders with Belize and Guatemala in the south, and the USA in the north.
Its tourist industry benefits from long coastlines along the Gulf of Mexico and Caribbean Sea to the east, and the North Pacific Ocean in the west.
Geographic Coordinates:
23 degrees 00' North, 102 degrees 00' West
Map of Mexico City:
With over 20 million inhabitants, many living in slums, Mexico City is not the place you want to get lost in! Make sure you've got a good city map before you go. Here are a couple of suggestions...
Streetwise Maps' Streetwise Mexico City is currently the most popular map of the city. With annual revision, its accuracy is dependable.
Places to visit are clearly marked and indexed, and the underground system is shown on an inset map. Pocket-sized and laminated for protection, this map will not fall apart when you need it most!
Make sure you get yours from Amazon now by clicking the icon below!
Alternatively, you might prefer the Insight Map Mexico City: Fleximap Plus Travel Information published by the American Map Company.
Get yours by clicking the button below to link up to Amazon.
Physical & Road Tour Map of Mexico:
Mexico is such a huge country, you'll really be needing a car to get around and see it all. Again, it's not worth leaving home without a good travel road map! Here's a selection of what's on offer.
The Mexico Map by International Travel Maps is very detailed and comprehensive, written in English and Spanish.
It shows land elevations, all types of roads from major motorways to the smallest tracks. All the sites of interest, natural features and national parks are shown, including volcanoes, swamps, reefs and caves.
With the place names indexed and demographic information given, you could not hope to get more from a travel map! All this on a scale of 1:3,300,000.
It also includes inset maps of Mexico City and Islas Revillagigedo.
Get your copy now by clicking on the Amazon button below.
Always popular is the Nelles series of maps on Central and South America. The Nelles Mexico Map is no exception, with text written in English, French, German,and Spanish. The scale is 1:2,500,000.
Click on this Amazon link to order yours now!
And last but not least, there's the Mexico International Map from Hallwag. In its hardback edition, the text is in English, French, German and Spanish.
Why wait? Order yours now through the Amazon link below.
More information on Mexico
Index: Map of Mexico. Masses of Facts and Figures on Mexico.

---
Map of Mexico from Cia World Factbook.
Learn Spanish Help 2004-2011
---
More Maps of Spanish Speaking Countries
Map of Andorra | Map of Argentina | Map of Belize | Map of Bolivia | Map of Chile | Map of Colombia | Map of Costa Rica | Map of Cuba | Map of Dominican Republic | Map of Ecuador | Map of El Salvador | Map of Gibraltar | Map of Guatemala | Map of Honduras | Map of Mexico | Map of Nicaragua | Map of Panama | Map of Paraguay | Map of Peru | Map of Puerto Rico | Map of Spain | Map of Uruguay | Map of Venezuela