Travel Map of Puerto Rico Carribean
A beautiful island in the Carribean Sea? (See our map of Puerto Rico.) Can you imagine a more exotic location to learn Spanish?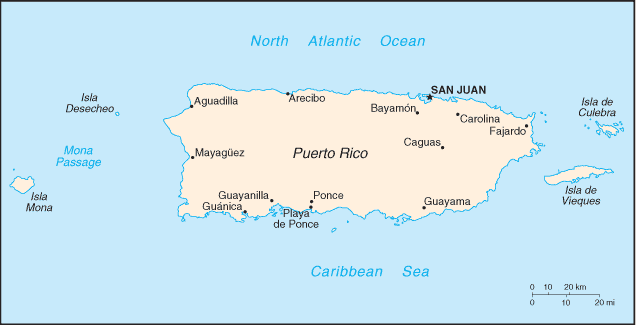 Location:
Puerto Rico is an island which lies between the North Atlantic Ocean and the Caribbean Sea. It is just to the east of Haiti and the Dominican Republic.
Geographic Coordinates:
18 degrees 15' North, 66 degrees 30' West
Map of Puerto Rico Carribean island:
If you do decide to visit Puerto Rico, whether it's specifically to learn Spanish, or just to enjoy this tropical island paradise, get out there and see it all!
For this, you really need the services of a good map, rather than relying on the freebie you picked up from the tourist office. May we make the following suggestions to ensure you make the most of your travel...
Firstly, there is the American Map Corporation's Insight Map Puerto Rico: Fleximap Plus Travel Information. This is a very compact (it's pocket-sized) and handy map which is laminated for durability. In addition to the island map, there is a small inset map of San Juan, the capital, and also useful information to improve your stay on the island.
Order your copy through our Amazon link (below).
The other map we propose for your consideration is the Puerto Rico Map from International Travel Maps (ITMB Publishing).
This physical and road map of the island (scale 1:190,000) shows elevations by colour changes and figures. All imaginable tracks and trails are show, not just the major highways.
Places of interest to visit, accommodation, beaches and swamps: all appear on this comprehensive map.
There is also historical and climate information, a handy guide to driving round the island, and an index of the main settlements.
There is even an English/Spanish glossary of geographic terms! It also comes with inset maps of San Juan and the main towns.
More information on Puerto Rico
Index: Map of Puerto Rico. Masses of Facts and Figures on Puerto Rico.

---
Map of Puerto Rico from Cia World Factbook.
Learn Spanish Help. Copyright 2011
---
More Maps of Spanish Speaking Countries
Map of Andorra | Map of Argentina | Map of Belize | Map of Bolivia | Map of Chile | Map of Colombia | Map of Costa Rica | Map of Cuba | Map of Dominican Republic | Map of Ecuador | Map of El Salvador | Map of Gibraltar | Map of Guatemala | Map of Honduras | Map of Mexico | Map of Nicaragua | Map of Panama | Map of Paraguay | Map of Peru | Map of Puerto Rico | Map of Spain | Map of Uruguay | Map of Venezuela