Travel Map of Guatemala Central America for Information
Ah... Guatemala, Central America! Home of the Mayas!
Look at our map of Guatemala and other information links and you're sure to find it the place for you to learn Spanish!
How can you go wrong with such a beautiful country?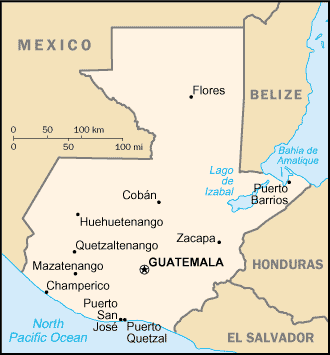 Location:
Slap bang in the middle of Central America, the richly historical country of Guatemala borders the North Pacific Ocean to the west and the Caribbean Sea's Gulf of Honduras.
Guatemala's land boundaries are with El Salvador, Honduras and Belize on the west and Mexico to the east.
Geographic Coordinates:
15 degrees 30' North, 90 degrees 15' West
Road & Travel Maps of Guatemala:
Although you can often come across beautiful places quite by accident, it is always good to be able to find your way back easily. Don't leave home without one of our suggested travel maps!
The double-sided Guatemala Map (scale 1:500,000) published in English and Spanish by ITMB is really useful.
Its main physical and road map of Guatemala shows the whole road network, from motorways to tiny tracks! It gives a wealth of useful information, including sites of historical ornatural interest, such as active volcanoes, mangrove swamps, hot springs and reefs.
It also indexes the major cities and includes inset maps of Guatemala City and outskirts, Antigua, Tikual, Quirigua, and Zaculeu sites.
Grab yours now! Click the icon below to get it.
A good map for those planning to skip countries is the up-to-date Rough Guide Guatemala & Belize Country Map.
Get your copy through Amazon via our link button below.
More information on Guatemala

Index: Map of Guatemala. Masses of Facts and Figures on Guatemala.

---
Map of Guatemala from Cia World Factbook.
Learn Spanish Help. Copyright 2011.
---
More Maps of Spanish Speaking Countries
Map of Andorra | Map of Argentina | Map of Belize | Map of Bolivia | Map of Chile | Map of Colombia | Map of Costa Rica | Map of Cuba | Map of Dominican Republic | Map of Ecuador | Map of El Salvador | Map of Gibraltar | Map of Guatemala | Map of Honduras | Map of Mexico | Map of Nicaragua | Map of Panama | Map of Paraguay | Map of Peru | Map of Puerto Rico | Map of Spain | Map of Uruguay | Map of Venezuela