Map of Cuba & Information for Your Tour
Thinking of learning Spanish? Why not head out to the land of cigars and Castro? Sneak a peek at the map of Cuba below to decide on your destination!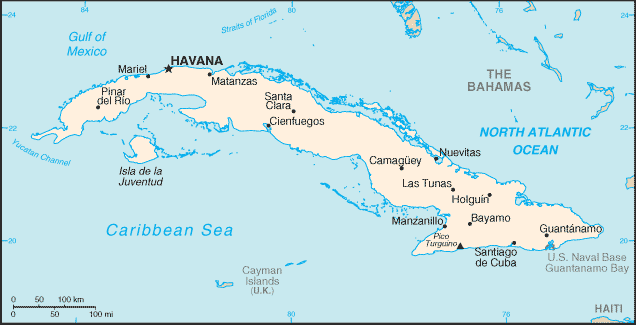 Location:
Surrounded by the North Atlantic Ocean and the Caribbean Sea Cuba is an island of 100,860 square kilometres located 150 kilometres to the south of Key West, Florida, USA.
Geographic coordinates:
21 degrees 30' North, 80 degrees 00 West
Road, Tour and Travel Maps of Cuba:
There are plenty of maps of Cuba which will help you get the most from your tour of Cuba.
Probably the best available one is Treaty Oak's double-sided Cuba Map.
On one side you have a relief map of the country, with maps of Havana and other cities and beach towns. On the other side, there is an index of place names.
Every road is marked, from motorways to dirt tracks. Other transport routes are marked (e.g. railways, ferries, etc.), as are landmarks and national parks and sites of interest. It has a scale of 1:1,250,000.
This is the best! Get it from Amazon by clicking the icon.
A great, comprehensive map is the Nelles Cuba Travel Map with City Maps. It is a detailed relief map which is up-to-date and easy to read. All major roads and distances are clearly marked. It also provides tourist information including beaches, ferries, hotels, national parks, places of interest and tourist information centres. Its scale is 1:775,000.
Get your travel map of Cuba now by clicking below.
The Insight Map of Cuba: Fleximap Plus Travel Information published by the American Map Corporation also gives you what you need.
Click on the icon to buy yours from Amazon.
More information on Cuba
Index: Map of Cuba. Masses of Facts and Figures on Cuba.

---
Map of Cuba from Cia World Factbook.
Learn Spanish Help. Copyright 2011
---
More Maps of Spanish Speaking Countries
Map of Andorra | Map of Argentina | Map of Belize | Map of Bolivia | Map of Chile | Map of Colombia | Map of Costa Rica | Map of Cuba | Map of Dominican Republic | Map of Ecuador | Map of El Salvador | Map of Gibraltar | Map of Guatemala | Map of Honduras | Map of Mexico | Map of Nicaragua | Map of Panama | Map of Paraguay | Map of Peru | Map of Puerto Rico | Map of Spain | Map of Uruguay | Map of Venezuela