Map of Gibraltar, South Europe
All you have to do is look at our map of Gibraltar to get the urge to pop on a plane and head over there to learn Spanish!
This British enclave is more than just a famous rock, more even than just a hotly debated piece of Britain in the south of Spain.
Want to know more about the monkeys' paradise? Read on!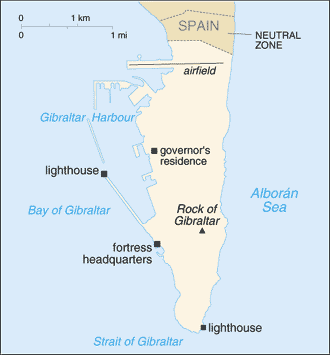 Location:
In the southwest of Europe, sharing land borders with southern Spain, "the Rock" stands over the Strait of Gibraltar and guards entry to the Mediterranean Sea. To its west lies the North Atlantic Ocean.
Geographic Coordinates:
36 degrees 8' North, 5 degrees 21' West
Map of Gibraltar:
Being rather petit in size, you'll probably want to spread your wings further afield when in Gibraltar. With southern Spain and Portugal on your doorstep, any one of the following maps would be ideal...
Currently easily available are the Michelin Spain & Portugal Map No. 990, 23e by Michelin Travel Publications by clicking below...
... or National Geographic's Spain & Portugal Map: 32 1/2 X 21 3/4, which can be ordered by clicking on the Amazon link below.
Alternatively, for more detail on the south of Spain, try the Michelin Spain Southern Map No. 446.
With a multilingual key and a scale of 1:400,000, this annually updated road map of Spain's hot south covers the main and secondary road networks across the region.
If you're planning on heading out to Andalusia, get this map from Amazon by clicking on the icon below.
More Tour Information:
Click here to more get more local information from Gibraltar's tourism website.
More information on Gibraltar
Gibraltar Travel Guide

---
Map of Gibraltar from Cia World Factbook.
Learn Spanish Help. Copyright 2011.
---
More Maps of Spanish Speaking Countries
Map of Andorra | Map of Argentina | Map of Belize | Map of Bolivia | Map of Chile | Map of Colombia | Map of Costa Rica | Map of Cuba | Map of Dominican Republic | Map of Ecuador | Map of El Salvador | Map of Gibraltar | Map of Guatemala | Map of Honduras | Map of Mexico | Map of Nicaragua | Map of Panama | Map of Paraguay | Map of Peru | Map of Puerto Rico | Map of Spain | Map of Uruguay | Map of Venezuela