Map of Costa Rica Central America for Travel
As you can see from the map of Costa Rica, this beautiful and mountainous country has a fantastic location.
What better excuse to visit this strip of Paradise, caught between the Caribbean and the Pacific Ocean, than to learn Spanish!
But before you make any rash decisions, have a look at the travel information below...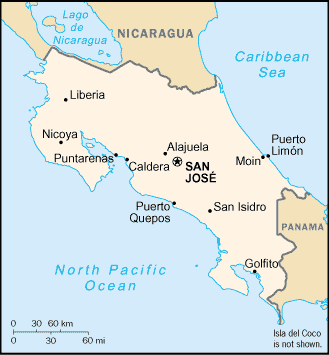 Location:
Costa Rica is located towards the south of Central America Middle America. With two long coastlines, it forms a small strip of land between the Caribbean Sea and the North Pacific Ocean. It is bordered in the north by Nicaragua and by Panama in the south.
Geographic coordinates:
10 degrees 00' North, 84 degrees 00' West
Travel and Tourist Road Maps of Costa Rica:
As soon as you arrive, it's guaranteed that you'll want to explore the country and immerse yourself in the local culture.
So, you'll need at least one map of Costa Rica if you're to make the most of the rainforests and volcanoes this amazing place has to offer!
If you're thinking of hiring a car, Jimenez's Costa Rica Highways and Roads map, published by Treaty Oak, is a great one to start with. It includes 2 maps of Costa Rica & 8 different city maps, with GPS tables, a distance chart and general information. Click the icon below to pick one up from Amazon.
The Insight Map Costa Rica: Fleximap Plus Travel Information by the American Map Corporation is another excellent map of Costa Rica.
It includes comprehensive regional & city maps and the top ten unmissable sights in Costa Rica. Maybe better still, it is already laminated to afford great durability.
Make sure you don't miss out on this one! Click below to get yours from Amazon.
Perhaps the best Costa Rica map available is Globetrotter's Costa Rica Travel Map. When you buy this, you have the option to buy just a map or the combined map/guide.
Aimed specifically at tourists, this practical, informative map includes detailed maps of the main cities and tourist destinations.
It also gives information on national parks, climate charts,
Get the Costa Rica Travel Map now from Amazon by clicking below.
Travel & Tour Information & Maps of Costa Rica:
If you love nature, you'll love Costa Rica. Maps help, but they can't tell you everything you need to know.
For those who care about the environment and want to help preserve the fabulous rainforests, waterfalls and volcanoes you'll see, you absolutely have to invest in a copy of the New Key to Costa Rica by Beatrice Blake and Anne Becher.
This book specifically focuses on ecotourism. All the accommodation listed is rated according to its eco-friendliness.
It is also brimming with information on outdoor activities, national parks and nature reserves... Not to mention where to go whale or dolphin or turtle watching!
This guidebook is definitely aimed at active, outdoors-type visitors, who care about the impact of tourism on this fabulous environment. If this is your cup of tea, you'd better click on the icon below to get your copy as soon as possible!
As always, there is the high quality Lonely Planet Costa Rica guide, which stands out from the average.
Lonely Planet? Yes please! Click below to order.
For the more budget conscious, the Rough Guide to Costa Rica is a good buy. Full of practical & up-to-date travel information, it gives rated accommodation and plenty of maps of Costa Rica's regions and towns.
The Rough Guide gives the low-down on all the best activities on offer in Costa Rica, from being a Guanacaste cowboy for a day to whitewater rafting.
Want a copy? Order it now through the button link to Amazon below.
More information on Costa Rica
Index: Map of Costa Rica. Masses of Facts and Figures on Costa Rica.

---
Map of Costa Rica from Cia World Factbook.
Learn Spanish Help. Copyright 2011.
---
More Maps of Spanish Speaking Countries
Map of Andorra | Map of Argentina | Map of Belize | Map of Bolivia | Map of Chile | Map of Colombia | Map of Costa Rica | Map of Cuba | Map of Dominican Republic | Map of Ecuador | Map of El Salvador | Map of Gibraltar | Map of Guatemala | Map of Honduras | Map of Mexico | Map of Nicaragua | Map of Panama | Map of Paraguay | Map of Peru | Map of Puerto Rico | Map of Spain | Map of Uruguay | Map of Venezuela