Map of Peru South America for Tour Information
Look before you fly at our lovely map of Peru, the third biggest country in South America!
With a rich Inca history and fabulous monuments still standing (hands up who hasn't heard of Machu Picchu?), Peru has so much to offer.
Also on offer to the traveller are the all-dominating Andes Mountains, the spell-binding cloud forests and rainforests, baking desert-like coastal plains and the mysterious Amazon basin.
Whether you prefer history or outdoor activities, there's something for everyone here. What a great place to go and learn Spanish!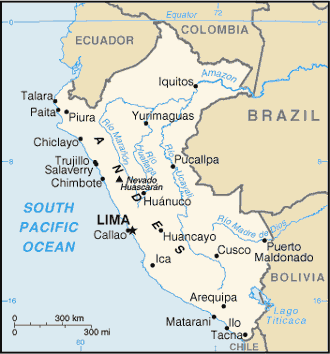 Location:
Peru takes up about half of the west coast of South America and extends inland across the Andes mountain range, into the Amazon basin.
To its west lies the great Pacific Ocean. It shares land borders with Ecuador and Colombia in the north, Brazil and Bolivia in the east and Chile in the south
Geographic Coordinates:
10 degrees 00' South, 76 degrees 00' West
Map of Lima, the Capital of Peru:
Most visitors to Peru start in Lima. With a third of the country's population squashed in and around Lima's shanty towns, you'll feel much better with a map of Lima in your pocket.
The Lima, Peru Map published by ITMB is a detailed map of the city. Absolutely anywhere you may wish to visit or need to go is catered for, from railway and bus stations to plazas, stadiums to museums.
It also includes a handy street index, general transport information and an inset regional map of the Lima area. The scale is 1:13,500.
Don't tackle Lima without your copy! Click below to order now direct from Amazon.
Tour Map of Peru:
Once you've seen the sights of Lima, we guarantee you'll be desperate to escape the pollution and inclement weather.
In this case, you'll be glad if you've got Nelles' Peru & Ecuador Travel Map with you!
This 1:2,500,000 scale physical road map is very easy to read and will fold time and again without splitting.
All the major routes are shown, with distances marked on. The unmissable highlights and places of interest are also indicated clearly. You won't miss a thing with one of these maps of Peru in your pocket!
A must for Peru and even better if you're planning to include Equador in your tour... Click on the Amazon icon below to secure your copy now.
More information on Peru
Index: Map of Peru. Masses of Facts and Figures on Peru.

---
Map of Peru from Cia World Factbook.
Learn Spanish Help. Copyright 2011.
---
More Maps of Spanish Speaking Countries
Map of Andorra | Map of Argentina | Map of Belize | Map of Bolivia | Map of Chile | Map of Colombia | Map of Costa Rica | Map of Cuba | Map of Dominican Republic | Map of Ecuador | Map of El Salvador | Map of Gibraltar | Map of Guatemala | Map of Honduras | Map of Mexico | Map of Nicaragua | Map of Panama | Map of Paraguay | Map of Peru | Map of Puerto Rico | Map of Spain | Map of Uruguay | Map of Venezuela